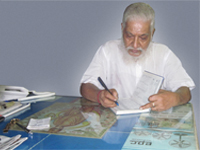 Mr. Sukumar Roy, Chairman
Founded in 1978, S. S. Metal excels in the manufacturing of export quality aluminium casted fan blades of different sizes and shapes. Our product caters the need of industries like Tea industries, Fan manufacturing companies Steel plants, Collieries, Shipping industries, Railways etc.

We offer a broad range of castings and components that are precisely moulded into standard and custom ordered shapes.

Under the able guidance of Mr. Sukumar Roy, the founder of the company
S. S. Metal since 1978 has emerged as a formidable force in the market.


Our manufacturing unit having an area of 8000 sq ft is situated in Kolkata, India and has a very easy access to ports and highways thus saving a lot of time and money of our valued clients. Also our unit is well-equipped with latest equipments and machineries. Every products of us is made by the best raw material available in the market. And also the products are tested and re-tested for efficiency before the final approval as per international norms.